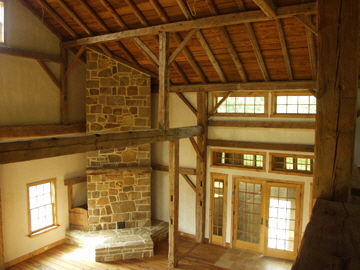 More Cost Saving Measures
~ One of our favorite reclaimed woods is the weathered cypress siding we used on the exterior of our barn home. When it is first installed, it has a wonderful natural honey brown color that will gradually turn a "New England" gray-silver with time and sun. Both blend in with the natural surroundings wonderfully. Cypress is one of the most rot resistive woods and will last a lifetime without the application of paints or preservatives. The entire exterior of our home is essentially maintenance free. We used the moderately weathered cypress for a textured look to the exterior. We have also planed this wood and applied it as clapboard siding for a more finished look.
~ Using some new air dried lumbers with the vintage lumbers on the exposed interior wall or ceilings can save on construction lumber costs, and if done properly, works wonderfully. Some species, such as white pine for example, will quickly begin to show signs of age and within just a couple of years will begin to develop a wonderful honey brown patina. Air drying lumber saves substantial money over kiln drying and also saves significant energy. You just have to plan ahead so you cut and sticker your wood so that it has ample time to dry. It takes about 6 months to a year - depending on drying conditions - to air dry most soft wood lumbers 1 inch thick to a point where they can be used inside your home without unacceptable shrinking.
~ On all your exposed interior walls and ceilings we recommend you use 1/2" thick sheathing lumbers where you don't need it to be thicker for structural reasons. Once installed, it is extremely difficult to tell the difference between 1" thick lumber from 1/2" and you reduce your lumber needs and purchase costs almost in half. Of course this can save thousands of dollars and use much less wood, one of the earth's most amazing natural resources. We typically take 1 inch thick wood and slice it in half with out woodmizer board saw to get the desired thickness we want.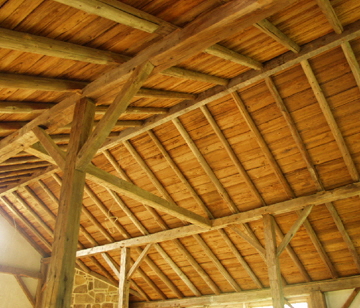 ~ Another way to save substantially on wood costs is to over-sand and round the edges of all your interior wood, sheathing, and flooring, and install it with the "black line effect". This is instead of tongue and grooving (T&G) or ship lapping these edges. This actually gives the boards more of an aged and colonial look as if they were all hand worked individually. As you know, if you ever walked into an early colonial home, you saw gaps between the floor boards that add to the character of the floor. You may even see the tongue and groove on the sides of the wide boards. Our colonial builders did this T&G primarily for strength and to keep out air flow and drafts as they did not have sub floors in those days. With modern sub floors there is no need to go to this extra expense and wasted wood that this kind of milling entails, and also the extra expense there is during installation. Even with the extra work to over sand the edges, this still saves substantial money and energy in milling cost, and also is easier, and therefore less expensive, to install. If done properly, the resulting look is as if each board stands alone, then a shadow or black line, and then another board, not a solid wall of wood as if it was paneling or plywood.
~ Another strategy we like to incorporate in our home building is to use as many recycled and reclaimed interior components as possible, including doors and kitchen cabinets. If you look in your local "penny pincher" papers or web sites, it is generally fairly easy to find old doors for sale from early houses that have been torn down or abandoned. These doors are usually 4 to 8 panel doors, v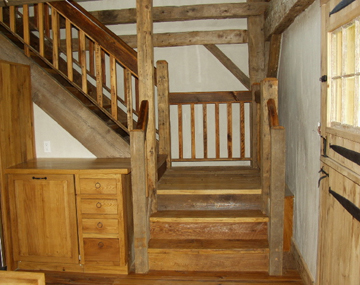 ery well made and many times have great knobs and hardware. They simply need to be sanded down and refinished, or even used unfinished with the primitive distressed look that has been very popular with furniture. It is a little more work to hang them, but in the end, I still feel they can be cost effective, 100 % green, and absolutely superior aesthetically to the modern doors you buy today. They fit in perfectly in a barn conversion project.
~ This is also true for kitchen and vanity cabinets. Many times when folks put in new kitchens and baths, they advertise their old ones for very reasonable prices. In many cases the boxes of older kitchen are very good. The face frames and doors can be removed from these and new ones can be added using beautiful recycled lumbers-such as wormy chestnut- to cut the costs of your new kitchen considerably. You may have to be creative with juggling the boxes to fit your exact kitchen space and design, perhaps build a new box or two to make it work, but generally it can be done without too much trouble.