Building and creating homes as green as you can get
COLONIAL HOME RESTORATIONS
Over the years of our work we have had the opportunity to restore and renovate many 18th and 19th century homes, particularly in the Chester and Lancaster County areas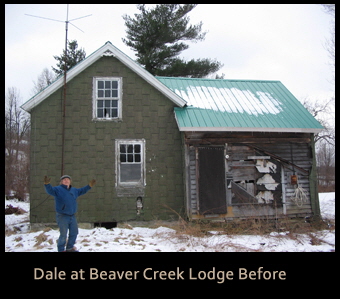 of Pennsylvania, where we were based for almost 2 decades. We make a distinction between restoration which usually means attempting to bring the house back to its original condition, and renovation which can mean simply fixing it up and making the house livable again. Real strict restorations can be very labor intensive and expensive and are wonderful to work on when clients value this kind of work and are happy to pay for all the details of taking their house back to this pristine condition. Renovations, on the other hand, can be much more flexible and still include many great features of the original house, but also include some tasteful compromises to keep the overall construction costs more affordable. Although we really appreciate the beauty and authenticity of the former, we recognize that the current financial times perhaps require more of the latter.
Our basic approach is to recommend a compromise between the two - let's call it "renstorations". We like to save and use as much of the existing house as possible, particularly the old flooring, doors, trim and casement. If we have to replace some doors, for example, we will do so with another period door salvaged from another older house, even though it might not match the existing ones exactly. We also like to incorporate other reclaimed and vintage lumbers to help maintain the colonial look of the house.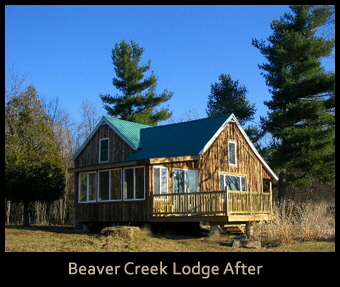 As part of our green emphasis we attempt to make sure when the house is done that it is well insulated, efficient, and with all its mechanicals - electric, plumbing, HVAC - in good, safe working condition. Many times we recommend that you use highly rot resistive, maintenance free woods on the exterior without paint or preservatives. We like to use as many natural products as possible in our work.
Many older and abandoned homes still have solid foundations and basic "shells" that are in very good condition, even though they may look just awful. In situations such as these, it is a matter of stripping and gutting the house down to its shell and starting over from there. The costs to do this is just a fraction of the costs it would be if you started from just bare ground and did all this work from scratch. You may save tens of thousands of dollars in construction costs on many items such as driveways, excavation and foundation costs, septic and wells, electric to the house, roofing system, flooring, doors and windows, trim and casement, stairs, walks and patios, and landscaping. You might be able to use some of the old bathroom fixtures such as claw foot tubs or pedestal sinks, and maybe even the basic boxes of your kitchen cabinets that could have new faces and doors installed on them.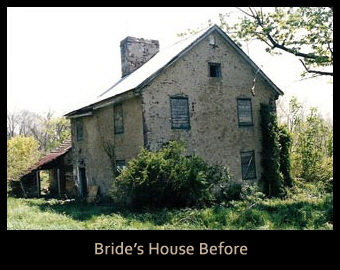 The basic shell of the house may be a post and beam, plank house or balloon frame and most times are built with much larger and stronger timbers than modern houses today. You have to enlist your imagination to "see" what can be done with these wonderful old places and understand how cost effective it is to bring them back to life as opposed to building a new house. You will find that many of these older houses, particularly in the country, were also built in just stunning locations.
ADDITIONS TO OLDER HOMES
Many times adding tasteful and well placed additions, such as sun rooms, will help make a smaller older home really come to life and give the added space that makes the home work for you in a very cost effective way. These can be designed and constructed with cathedral ceilings using various antique lumbers that really create so much additional charm and livability in your home. We frequently take out walls and install beam systems to make the floor plan of the house work better as well. As a general rule, most older houses need new energy efficient windows installed, particularly in colder climates, and we frequently put in sliding doors or larger windows in certain places to bring in more light and give a better view of the outside landscape.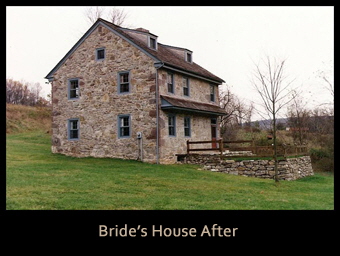 In the past several years, we have purchased two totally abandoned houses in beautiful St. Lawrence County, NY, and restored them back to life and now rent them out as very successful vacation rentals. This is just one example of the possibilities and potential that many of these old run down or abandoned houses may have. As building material and labor costs continue to rise at alarming rates, the restoration and renovation of these early homes becomes an even more affordable and cost effective option. If you are thinking Green these days, what better way to create a home for yourself than by saving one of these magnificent houses.
If you would like more information, please feel free to email or call us 315-286-4847
For further information please also see our other web sites.
Small Barn Homes www.smallbarnhomes.com
Barn Home Designs www.barnhomedesigns.com